Even if he didn't have 10 million females, from bobby soxers to grandmothers, idolizing him, George Maharis has one fan who couldn't ever desert him.
This dedicated lady is a movie fan editor who says that every time she sees him in a Route 66 episode hot flashes course through her body, and she practically swoons. "The only one who used to give me that reaction was John Garfield," she explains. "So Gorgeous George must have that same chemical element that Garfield had—sort of a glowering sex appeal."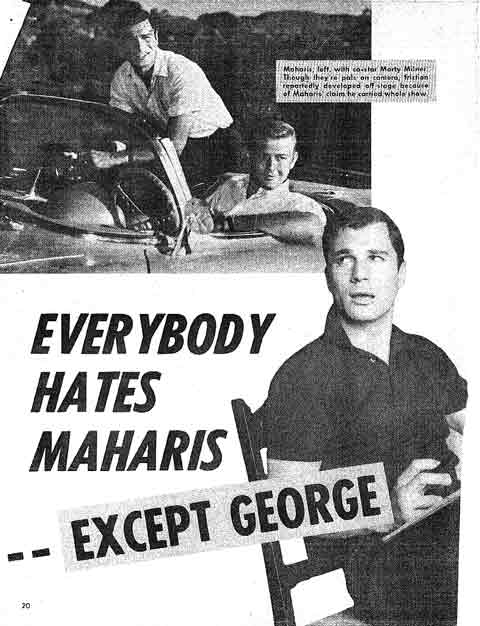 For the record, the fascinated femme is right on two counts. Maharis, an ex-marine turned actor, definitely has sex appeal. He is also glowering. At this writing it is in the direction of the producers who, according to George, are giving him a hard time. We might point out that the late John Garfield had similar peeves.
Always a Hassle
But while Garfield's anger was directed primarily at producers, it's an open secret in Route 66 circles that Maharis has argued with everyone from prop boy right up to and including Herbert Leonard, the show's producer.
At the start, Maharis' growls were what any producer or director expects from talent. Things suddenly got serious when Maharis abruptly left the show last spring with infectious hepatitis, returned during the summer and in the middle of November gave up. The producers, he claimed had worked him so hard he had a relapse.
That did it. Rebuttals hit Maharis on all sides, the general tenor of which was that Maharis was far from sick, but just trying to get out of the show to cash in on his popularity. But he'd be back producer Herbert Leonard said.
"There is no such thing that he won't be back," Leonard told a reporter, "because he will never be through until the series goes off the air."
When Stirling Silliphant, creator of the show, was asked if he had doubts that Maharis was seriously sick, he said:
"Of course, I do. And we're sending a doctor to New York immediately to examine him... I think that George Maharis is impatient to get on with his own career. He has no regard for his company, his co-star Marty Milner and the 50 or 60 other people on the show."
Excluded from a Script
Maharis' reply to the blasts was a withering crossfire of accusations in which he claimed that his bosses didn't appreciate a job well done, and that once, to keep him in line they deliberately excluded his name in a script.
"I've lost respect for them," he told a TV Guide writer. "Listen, I'm paid back in full. I don't owe them nothing."
And that included his co-star, Marty Milner, with whom Maharis had reportedly been having troubles. Though he denied having disagreements with the mild-mannered Milner, Maharis wasn't loath to let off steam in a memorable interview in which he said Milner was basically a snob.
"He looks down on everybody," Maharis fumed to a writer. "I mean, I realize he's been around 15 years and I'm a newcomer carrying the whole load of the show and there's jealousy involved. But the month I was in the hospital - not one word, nothing, from him in all that time. He has no concern for anybody. Shall I say he's lacking in human qualities and let it go at that?"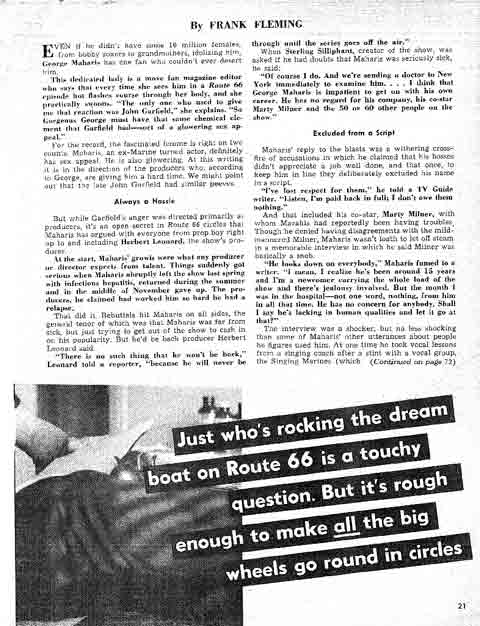 The interview was a shocker, but no less shocking than some of Maharis' other utterances about people he figures used him. At one time he took vocal lessons from a singing coach after a stint with a vocal group, the Singing Marines (which he joined when he finished a hitch in the Marines), and a short tour of the country with small dance bands and musical comedy road shows.
He blamed his failure to reach stardom as a vocalist on his singing teacher, who tried to convert him from baritone to tenor.
"That bum ruined my voice," Maharis complained. "I was just getting good when I started to take lessons. After the first few lessons I could hardly talk, let alone sing. It took me years to get my voice back."
But once he got it back he lost no time in putting it to practical use. By this time, Route 66 had made him famous. His teenage fans flocked to the music stores to buy his first album, George Maharis Sings, and subsequent offerings as Teach Me Tonight and After the Lights Go Down Low.
The praise that followed, Maharis characteristically accepted as due. He didn't act surprised to find himself on top of the hit parade alongside such stalwarts as Elvis Presley, Bobby Darin, and Paul Anka.
"I've always felt, even years ago, that I could get to the top," he says. "And this is just the beginning. I want to be more than an actor. I want to leave something behind."
Maharis' dedication has been a subject of comment for some time.
"George's love affair with George will stand the test of time," says an associate on Route 66. "And don't be fooled by his tantrums. He's got a very well-organized disorganization."
Producer Herbert Leonard thinks so, too.
Fuming about Maharis, Leonard charged, "He brought an alarm clock to the set with him every day, would set it so that it rang at two hours and 57 minutes, then would knock off on grounds that he wasn't a well man."
In ill health or the best of spirits, there's no gainsaying Maharis' powerful appeal to the fans. His fan mail in a good month hits around 5,000 letters. His TV role might have been hand-tailored to fit him, the part of Buz Murdock, a near-hood off the streets of New York, but with a heart of gold. Violence is his trademark and the dolls love him for it, just as they loved John Garfield and, currently Vince Edwards, Brando and a host of other "he-man actors."
But off-screen, Maharis, who hails from Astoria, Long Island, is a loner. On the road, where Route 66 always is, he spends most of his time in a hotel room, munching on fresh fruit and raw vegetables and blasting away on his stereo portable. While other members of the company form softball teams, Maharis refuses to play. He steers away from any and all team efforts except the making of films.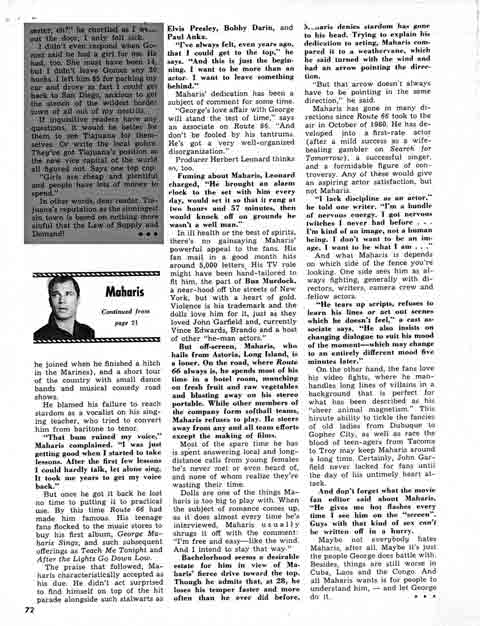 Most of the spare time he has is spent answering local and long distance calls from young females he's never met or even heard of, and none of whom realize they're wasting their time.
Dolls are one of the things Maharis is too big to play with. When the subject of romance comes up, as it does almost every time he's interviewed, Maharis usually shrugs it off with the comment: "I'm free and easy—like the wind. And I intend to stay that way."
Bachelorhood seems a desirable estate for him in view of Maharis' fierce drive toward the top. Though he admits that, at 28, he loses his temper faster and more often than he ever did before, Maharis denies stardom has gone to his head. Trying to explain his dedication to acting, Maharis compared it to a weathervane, which he said turned with the wind and had an arrow pointing the direction.
"But that arrow doesn't always have to be pointing in the same direction," he said.
Maharis has gone in many directions since Route 66 took to the air in October of 1960. He developed into a first-rate actor (after a mild success as a wife-beating gambler on Search for Tomorrow), a successful singer, and a formidable figure of controversy. Any of these would give an aspiring actgor satisfaction, but not Maharis.
"I lack discipline as an actor," he told one writer. "I'm a bundle of nervous energy. I got nervous twitches I never had before... I'm kind of an image, not a human being. I don't want to be an image, I want to be what I am..."
And what Maharis is depends on which side of the fence you're looking. One side sees him as always fighting, generally with directors, writers, camera crew and fellow actors.
"He tears up scripts, refuses to learn his lines or act out scenes which he doesn't feel," a cast associate says. "He also insists on changing dialogue to suit his mood of the moment—which may change to an entirely different mood five minutes later."
On the other hand, the fans love his video fights, where he manhandles long lines of villains in a background that is perfect for what has been described as his "sheer animal magnetism." This hirsute ability to tickle the fancies of old ladies from Dubuque to Gopher City, as well as race the blood of teen-agers from Tacoma to Troy may keep Maharis around a long time. Certainly, John Garfield never lacked for fans until the day of his untimely heart attack.
And don't forget what the movie fan editor said about Maharis, "He gives me hot flashes every time I see him on the "screen". Guys with that kind of sex can't be written off in a hurry.
Maybe not everybody hates Maharis, after all. Maybe it's just the people George does battle with. Besides, things are still worse in Cuba, Laos and the Congo. And all Maharis wants is for people to understand him, — and let George do it.