The trouble may be too much GAS and not enough OIL
Soon after the Corvette drove out onto Route 66 some two years ago, a director on the series said driver Marty Milner's "sunny personality" was a perfect backdrop for the "glowering sex appeal" of the guy in the right-hand seat, George Maharis.
That director could not have called the turn on Route 66 more accurately. Though they are billed as co-stars, since the series' inception Milner has been mostly backdrop, Maharis the star. Maharis's fan mail in a good month reaches 5000 letters; Milner's averages about 1800. And the letters themselves are an indication of their relative status: Most correspondents assure Milner they like him better than Maharis, but Maharis's letters hardly mention Milner at all.
In such a situation, one might expect Milner to be the one who is miffed, but that has not been the case. While Milner has remained in the background—if not satisfied with his lot, at least making the best of it—Maharis has been the growler and the grumbler, the one who has argued most with management—from prop boy up to and including executive producer Herbert Leonard.
At first Maharis's rumblings were merely grist for Hollywood's gossip mills. Then he abruptly left the show last spring, with infectious hepatitis, returned last summer and in mid-November left again. He declared the producers worked him so hard he had a relapse. The producers expressed doubts that he was ill, strongly implied he was trying to get out of his contract to go on to bigger and better-paying acting jobs.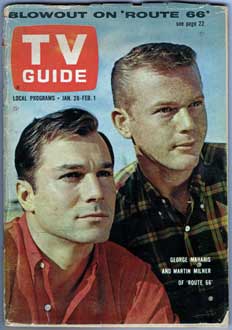 Whether Maharis would return to Route 66 was open to question at this writing. It was up to the doctors. While awaiting their verdict, however, he let out one long blast, his hottest yet, at Route 66 and all its accoutrements, even searing co-star Milner a little in passing. Talking to writer Cindy Adams in his New York hideaway, Maharis stoutly denied that he was trying to escape from Route 66.
"If I were looking to cop out, I could have done it last summer," he told Mrs. Adams heatedly. "I wasn't ready to go back to work then any more than I'm ready to go ice skating right now. When I went back, they promised an easy schedule, short days; promised my doctor they'd work me only three, four hours a day. That became five, then 12, then one week I worked 89 hours and 45 minutes. They gave me parts where I'd work at night, drag bodies, wade into unseasonably cold ocean water, surfing and swimming against the tide. I knew if I had a relapse I'd blow everything, but these shows were starting the season and I wanted to give it my all.
"I fell apart again. How could I not? I began blowing lines. If I lived at home I'd be all right, but this traveling [Route 66 is constantly on location] is the roughest schedule on TV.
"In Chicago the director said, ' This man looks terrible. Take him home.' He was told, 'Get a performance out of him. We've got a fortune invested. Promise him a few days off later.' I'm not asking for a raise. I'm not asking for a new contract. All I want is to protect my health, and I resent the fact that they haven't given me proper care."
What about the charge that the show and the people who produce it have made him a success, and that now he is "ungrateful"?
"Listen, I'm so grateful I haven't bothered taking my vacations for the past two years. I'm so grateful that after I was hospitalized last spring I started work two months before I should. I'm so grateful that I turned down a lot of money and The Ed Sullivan Show in 1961 because the producers had promised I'd do a Roy Rogers special for a lot less dough.
"I've been accused of having no regard for the company, too. No regard? Nobody's had more. But they've dissipated it. I've lost respect for them. When somebody works as hard as I do, shouldn't there sometime be appreciation of a job well done? Take that matter of vacations. When I was in the hospital they decided that since I was going to be out anyway they'd save money by making that my vacation time. Man, like that was not my vacation.
'I don't owe them nothin'
"Another thing, I was originally promised star billing but somehow got fluffed out of it. To keep me in line, one script deliberately excluded my name.
"Listen, I'm paid back in full; I don't owe them nothin'."
And finally, despite the heretofore stiff upper lips in public, what about reports that he and Milner haven't been getting along?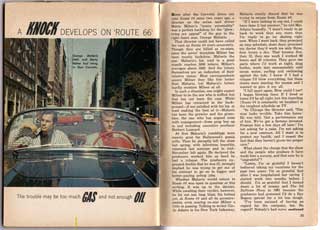 "I am not having troubles with Mr. Milner [his emphasis]. It's just that we have nothing in common. He says sarcastic things about me and he pulls that 'star' stuff, and the lawyers and the press agents and the whole bit-when some areas bill me ahead of him.
"He's basically a snob. He looks down on everybody. I mean, I realize he's been around 15 years and I'm a newcomer carrying the whole load of the show and there's jealousy involved. But the month I was in the hospital-not one word, nothing, from him in all that time. He has no concern for anybody. Shall I say he's lacking in the human qualities and let it go at that?"
In reply to all this, producer Leonard, in Hollywood, maintained a discreet "no comment." Co-star Milner, however, had some comment, though of the kind that added soothing oil to the troubled Corvette engine rather than any more highly volatile gas.
Speaking from Apache Junction, Ariz., where he was on location with the Route 66 company, Milner first went into the subject of billing, press agents, lawyers and that "star stuff."
"Gee," he said affably, "I don't even have a press agent. I did have a lawyer who did about $100 worth of work for me once. He wrote a letter to CBS, pointing out that my contract called for top billing and that in some paid advertising somewhere, there had been an error. I felt CBS should be made aware of the fact. Billing is something you fight for for a long, long time and you don't give it up easily.
"I don't think I've ever made any sarcastic remarks about George. Even if I were sore at him, I like to think I'm not the kind of guy who would cut him up with sarcasm, especially if I knew I was going to continue working with him.
"He sounds like he's kind of mad at me," Milner added. "I'm sorry. We never had any trouble during the first years of the show. I guess this illness has sort of gotten to him, which is understandable."
Milner's harsh self-appraisal
Though Milner may seethe within—and there is some evidence of this—he has maintained a stance of gentlemanly self-control and self-effacement throughout all the rumblings and rumors of rift between himself and Maharis. And actually, except on an occasion or two when he may have been sorely tried, he seems sincere in his efforts to get along with Maharis. His concern is not entirely unselfish. He knows that the show needs the brooding, dynamic co-star. Milner himself would be delighted to set hearts aflutter the way Maharis does, and has said so. But the fact is that he doesn't.
"But I'm not heartbroken," he says, "the way George would be if I were out front. George has just got some magnetism and drive in his personality that I may not have in mine."
Milner's self-effacement is not a new characteristic by any means. His harsh self-appraisals may rum the gamut from his first job in pictures ("I was pretty bad in that. My red hair and freckles got me the part. It certainly wasn't my talent") to last week's Route 66 ("I'm not one of your gifted genius actors").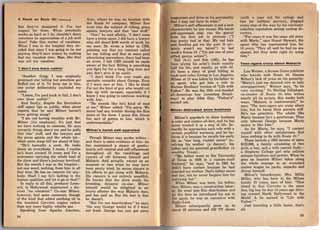 Tall (6-1) and thin (165), he has been plying his actor's trade exactly half his life, and mostly, as with 66, it's been a story of good billing in back-seat roles. Living in Los Angeles, Milner at 15 was taken by his father to an agent, who got him a role in Warner Brothers' version of "Life with Father." He was the 10th red-headed all-American boy (counting Broadway) to play John Day, "Father's" second son.
Milner distrusted show business
Milner's approach to show business is calm and matter-of-fact, and he has never trusted it as a way of life. Inwardly he approaches each role with a certain youthful wariness, and he believes it is because he recalls his early life as "one long, violent storm" involving his mother (a dancer), his father and his paternal grandfather (a wealthy Texan).
"My father went to the University of Texas in 1926 in a custom-built Packard," he says, "and in 1931 he didn't have carfare because he had married my mother. Dad's father never met her, but he never forgave him for marrying her."
When Milner was born, his father, Sam Milner, was a construction laborer. He went into film distribution and by the time he introduced his son to the agent, he was an executive with Eagle-Lion.
Milner subsequently grew up in about 25 pictures and 150 TV shows (with a year out, for college and two for military service), plagued every step of the way by his curiously colorless reputation among casting directors.
"For years it was the same old story with Marty," says Stuart Stewart, the agent who has represented him for 14 years. "They all said he had no sex appeal, but they went right on using him."
Teen-agers crazy about Maharis
Lou Weiner, a Screen Gems publicist who travels with Route 66, blames Miner's lack of press on his geniality. "Marty's just too damned nice to lady newspapermen," Weiner says, "to be very exciting." To Stirling Silliphant, co-creator of Route 66, who writes nearly all its scripts, this works both ways. "Maharis is controversial," he says. "The teen-agers are crazy about him, but he bores their parents stiff. He's too primitive. The adults like Marty because he's a gentleman. They only tolerate George because Marty seems to like him."
As for Marty, he says, "I content myself with other satisfactions that have nothing to do with Route 66." These include a 1962 income of some $125,000, a family consisting of two girls, a boy, and a wife named Judy-a Stephens College girl who collects antique furniture and pewter. When he goes on location Milner takes along the whole menage in an oversized station wagon he packs, unpacks and drives himself.
Milner's housekeeper, Mrs. Millie Miller, who has been in the Milner family 15 years, says of him: "That blond in that Corvette is the same fine, big boy he was 14 years ago driving around North Hollywood in the Model A he earned in 'Life with Father. "
Just traveling a little faster, that's all.