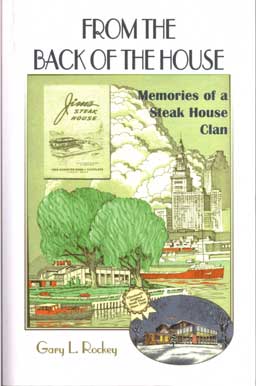 From the Back of the House - Memories of a Steak House Clan
G.L. Rockey
Located in Ohio's celebrated Cleveland Flats, Jim's Steak House was the place to go for people from Cleveland to London and beyond. Thousands of patrons from boat captains to school teachers to movers and shakers celebrated anniversaries, weddings, birthdays, graduations, special memories, and more of Jim's. While dining on their favorite choice cuts of beef and famous hash browns, they ogled the fabled Cuyahoga River, the Terminal Tower, and giant oar boats easing round Collision Point.
Beginning with the restaurant's founding in 1930 by Greek emigrant, James Kerkles, the story recounts his marriage to much younger, and colorful Hilda Hoffman. After Kerkles' untimely death, Hilda (later to be known as The Queen of the Flats) nurtured her two most cherished "babies": Jim's Steak House and her deceased sister's son, Raymond Rockey.
Adopted into the Jim's family at the age of ten by life long restaurateur, Raymond Rockey, G. L. Rockey grew up living in the apartment above Jim's and witnessed, from the back, top, and front, what some call the "hospitality business." This is the personal recollection-"cynical, biting, opinionated, humorous, poignant, revealing"-of Jim's and the clan that were part of a major city's restaurant scene for sixty-plus years.
"No small potatoes," noted Cleveland author Les Roberts' detective Milan Jacovich, operates out of a fictional office next to Jim's. In real life, Roberts hung out in Jim's lounge and has written an introduction to his book.
Inserted throughout are scrapbook photographs, newspaper reviews, magazine articles, and Jim's menus that verify and chronicle a colorful chunk of local history and culture.
G.L. Rockey's website

Order From the Back of the House - Amazon.com
Order From the Back of the House - Publisher's website
Order From the Back of the House - PDF file / U.S. Mail